It's been three months since I wrote about my current favorites, and this time I want to introduce you to the products I'm using this summer. I always try to make products easily accessible and affordable, and these products are for sure in that category.
---
I will start with SPF products and one of them is Nivea Sun Shine Control Sunscreen with SPF 30. An excellent and light cream that absorbs very quickly and leaves no trace on the skin. The price of this Nivea cream is 45,90 kn on Notino, and you get an amount of 50 ml. I recently wrote about it and a detailed review can be read here.
I always have to keep my lips moisturised, and this time the choice fell on Labello Sun Protect with an SPF 30. The formula is very moisturizing, leaves no white cast on the lips and has no particular scent. This lip balm came in with a balm that you apply after sunbathing, but I did not use it because I passed it on. When buying I thought it was two ordinary lip balms, I did not even notice it was a set for sunbathing ha-ha. The price for both is 34 kn in Muller, and each comes in a packaging of 4.8g.
---
During the summer I love using thermal water for refreshing the skin, and for more than a year I use Avene's thermal water. It's great for me, I have no words of objection, and one package lasts for me a long time. I like to use it during the day for refreshing and sometimes I use it instead of a toner. This is a 150 ml package that costs 59 kn on Notino, and there is a bigger and a smaller pack.
I know that women always struggle with unwanted hair and constantly look for the ideal products for hair removal. I recently discovered the Aveo hair removal cream that is intended for sensitive skin and really does what it's supposed to do. Hold it on the skin for 5-10 minutes and there are no more hairs. You can get this cream in Muller for 14,90 kn, and you will get an amount of 125 ml.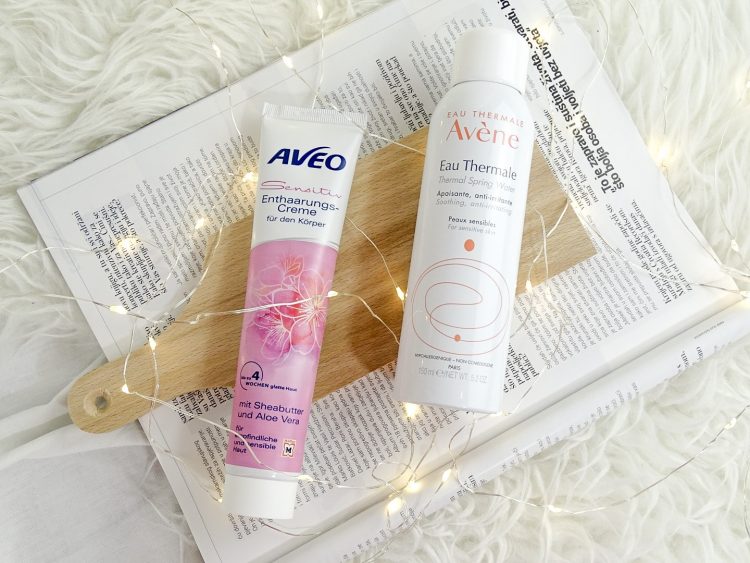 ---
To make my makeup last longer under this heat, I use Catrice Prime and Fine Anti-Shine Fixing Spray for setting the makeup. This fixator has a double function, can also be used as a fixator and as a primer. It does not dry my skin, it prolongs the makeup and holds everything together nicely. You can buy it in most drugstores, its price is 30-40 kn, and you get an amount of 50 ml.
I saved the best for last, these cute scrunchie hair ties. I have three of those now and I love how they look. They do not pull my hair and they keep it in place all day. They look great with any hairdo and add some elegance. I ordered them from AliExpress for a price of 1$, maybe less.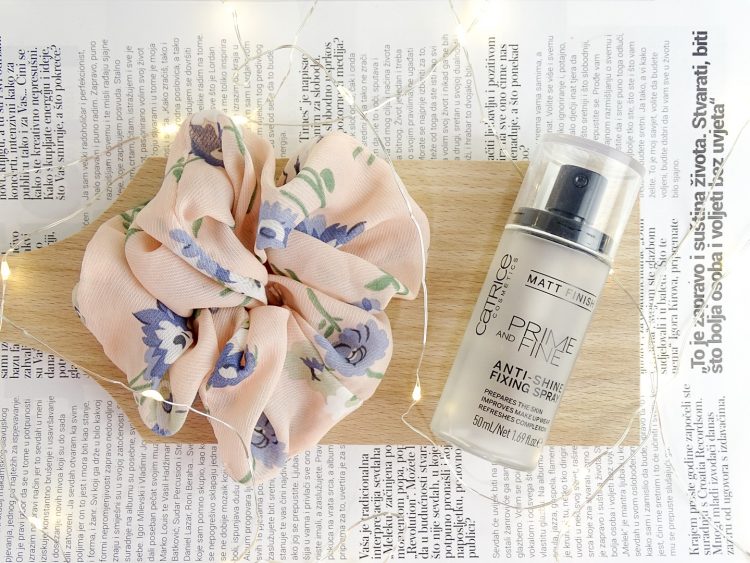 ---
Of course, there were other products in use, but I have been talking about them on Instagram or writing reviews here. I think next favorites will be fashion oriented, so tell me if this is something that would interest you. 🙂
What are your summer favorites and which products you cannot without live in the summer?
Ana