I have heard only good comments about Korean brands from other bloggers and I wanted to try out if Korean products are really so good. I've ordered a few products I still test, but today you will be able to read about some Korean skin care products.
Today, I'll talk about the Laneige Water Bank Moisture Kit, which I ordered from the Korean site called YesStyle. I ordered three products in sample packaging, just to test their quality. I did not want to buy a full size pack immediately because I am trying to reduce my cosmetics collection as much as possible.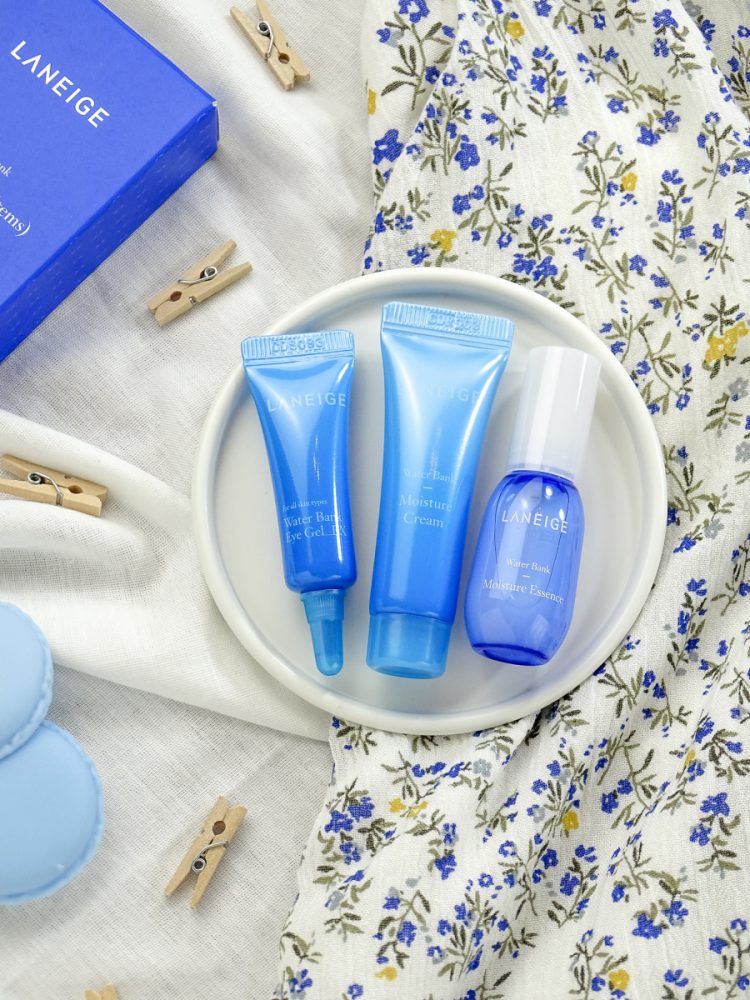 Water Bank Moisture Essence 10ml
Moisturizing serum enriched with green minerals that can be found in vegetables like brussels sprouts, artichokes and lime beans. No, this is not cooking, but it's the perfect recipe for a healthier, cleaner and hydrated skin. All of these ingredients boost the skin's barrier and help the skin retain as much moisture as possible.
I used these 10 ml of product for two or three weeks, almost every day, and I have not spent half of it yet. A really good serum for my combination skin type, my skin loves it. There is no feeling of tightening or burning the skin after using this serum.
Water Bank Moisture Cream 10ml
Recently, I can't find the perfect cream for my skin type, none of the creams I used are moisturizing enough or they dry out my skin. Do you know that feeling when you put on a cream, and your skin is still tight and lacks its moisture? I found a solution and I got help with this hydrating cream. After this cream, the skin just shines but is not greasy. It has a healthy glow that really lasts all day.
It works very well underneath the makeup and the foundation sits nicely on the skin. I have also been using these 10 ml for 2-3 weeks, sometimes twice a day and I just started to finish the pack. I think the full-size packaging will last forever, because only one pump is enough for my face.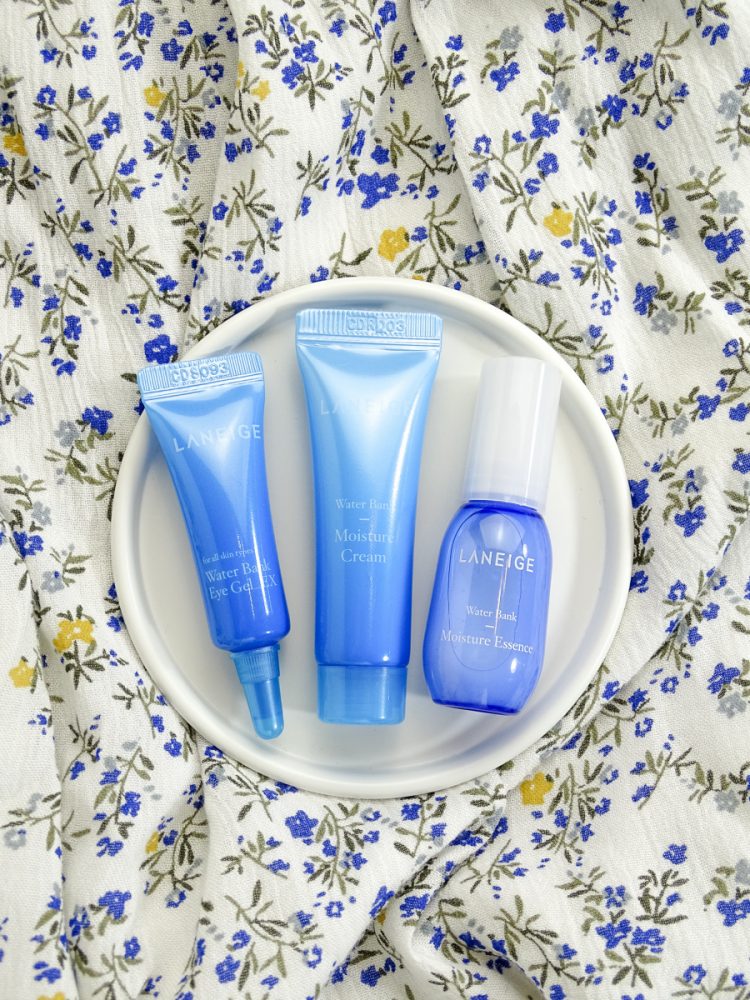 Water Bank Eye Gel EX 3ml
Moisturizing cream for an under-eye area with a blueberry extract that protects tired skin exposed to electromagnetic radiation. It also contains a palm extract that creates a protective moisturizing layer on the skin and prevents its drying. A really light cream, you do not even feel it on the skin, it does not create that feeling of weight under your eyes.
I know that no creams can wipe out dark circles, but I think my dark circles are a bit lighter since I started using this eye cream. I suppose that a combination of good sleep, nutrition and creams can really help in reducing dark circles.
---
Yes or No?
This Laneige Water Moisture Kit is sold at a price of 4.41$ on the YesStyle site, and each product can be purchased separately in full size packaging. It takes a very small amount of product for the whole face and the under-eye area so I think the full size packaging really lasts long. If you want to order some Korean cosmetics from the YesStyle site – use my BWP5K9 discount code.
All these products absorb very quickly into the skin, you do not have to wait a long time for them to dry. They do not leave sticky marks or shed after application. These products would only be recommended for people with dry and combination skin because they do still give a lot of shine to the face. I'm very satisfied with this set and I will be purchasing full size products as soon as possible.
Have you tried out any Laneige products? If you have used this set, tell me your impressions!
Ana