Regular exfoliating can be crucial in maintaining a clear skin and radiant complexion. Exfoliating removes dead skin cells from the face and prevents irregularities and ingrown hairs. If you are interested in learning more about this topic, keep reading.
---
Exfoliation can be mechanical or chemical. Mechanical peeling cleanses the surface of the skin with finely grounded particles, while chemical peeling goes deep into the skin with active ingredients such as AHA and BHA acids. Whether on the face or on the body, after using an exfoliator, the complexion is brighter and clearer, and the skin is softer and smoother with a nicer texture.
Personally, I prefer both mechanical and chemical peelings, depending on how much time I have. Lately I have been using Neutrogena Hydro Boost Face Exfoliator, a facial scrub with hyaluronic acid. It is intended for all skin types and does not dry out the skin as it is alcohol free. It contains glycerin, which can greatly help with the hydration and elasticity of dry skin.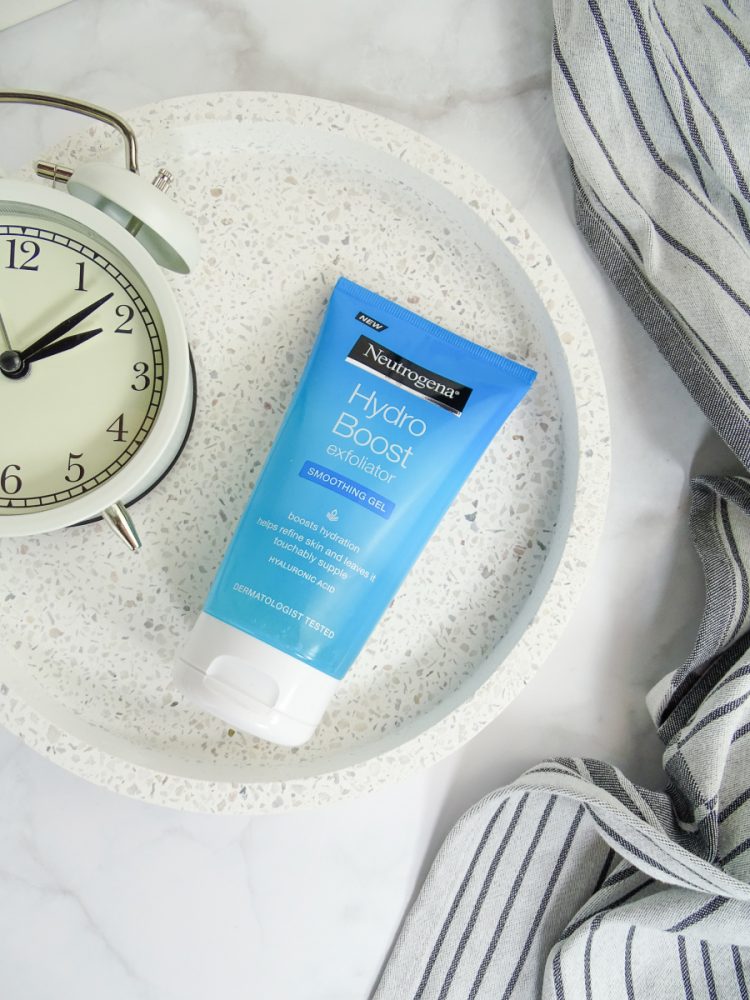 The ingredients include lactic acid, which provides a hydrating and exfoliating effect, and glycolic acid, which restores the skin and reduces sebum secretion. There is also hyaluronic acid, which slows down the aging process, moisturizes and firms the skin. The scrub does not contain allergens, silicones or parabens.
The exfoliation particles are finely ground enough to give a pleasant feeling on the face and remove the texture from the skin. When used, you do not feel as if you are removing the entire surface layer of skin as some peelings tend to do. After using the exfoliator, the skin is very soft and smooth to the touch and does not feel tight.
As for the scent, it has a mild fruity scent that is not overpowering but pleasant. It evaporates quickly from the skin so that even the people most sensitive to odors will have no problem with this scrub.
Apply the scrub two to three times a week on a moist face and rinse, avoiding the eye area. The amount I used is just over a pea grain size, that's enough for my whole face. I used the scrub mostly in the evening to make sure I had all the makeup residue removed and that my face was cleaned properly.
---
-Yes or No?-
I like to use this Neutrogena exfoliator as it does not dry out my combination skin, my skin is visibly cleaner and more beautiful after use. I have been using this scrub for about three weeks now and I have the feeling that my complexion is generally cleaner, and other people have noticed it on my face. It fits in well with the other products I use and I had no problems with it.
Because of the active ingredients of this product, I would not recommend this scrub to people with sensitive skin unless they have already used ingredients like glycolic and lactic acid so far. I would totally recommend this to people with combination/oily skin!
Neutrogena Hydro Boost Facial Exfoliator can be found on Notino at a price of 43.20 kn and you get 150 ml of product.
What are your impressions about this product?
Ana