It's time for a review of a Korean product, I'm talking about Missha SPF cream with a protection factor of 50+. I was using it for the last two months, I've almost finished it already, but I finally gathered all my impressions and decided to write a review.
---
Missha All Around Safe Block SPF50 + / PA ++++ is a protective cream with mineral filters that protect against harmful UVA and UVB rays by blocking them from the skin. It contains silicones that smooth the skin, after application the complexion looks more even and radiant. The cream is waterproof and highly hydrating that does not emphasize dry areas. It's very thick, but blends easily with the skin.
When applied, the cream leaves a little bit of a white cast on the skin, so it is necessary to massage it well into the skin in order to blend it with the skin. The cream is not mattifying, it leaves a glow on the skin, but doesn't leave the skin oily. However, this combination is not long-lasting and if you wear foundation or make-up in general, and you have slightly oily skin, your skin will get oily during the day. It doesn't clog my pores and it hasn't caused me breakouts, which is great.
It leaves a slightly sticky feeling on my skin so I have a feeling that every bit of dirt or dust is getting on my skin. The skin is smooth and soft, but that sticky feeling drives me crazy. My skin definitely gets more shine pretty quickly, but it doesn't look oily, although I'd prefer it to provide a mattifying effect. On the other hand, it makes a very good base for makeup application because the foundation adheres well to this "sticky" foundation.
It's very rich and thick in texture and may not suit someone with oily skin. It would be a good choice for people with dry skin as it's very hydrating and it doesn't accentuate dry areas. I usually wear it when I'm at home or when I'm not wearing makeup because that's when it looks best on my skin and I don't mind getting some shine during the day.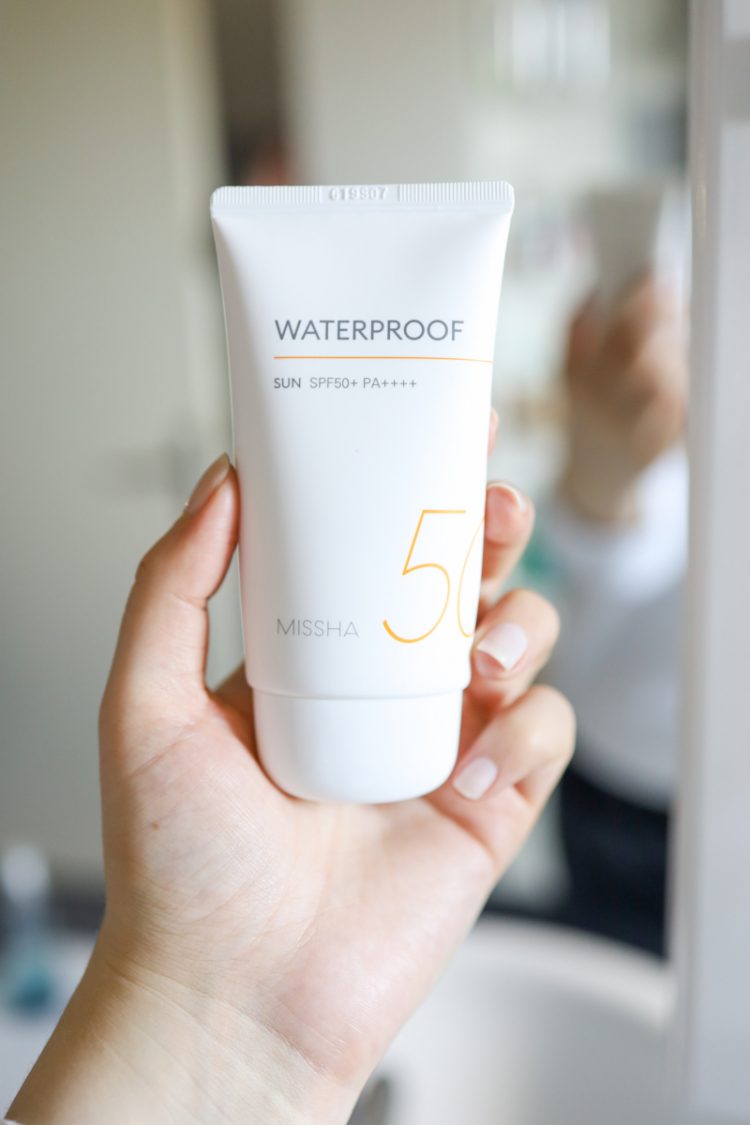 If I plan to wear makeup, I reach for a mattifying SPF cream that will regulate sebum production on summer days. Whenever I put on this cream and some makeup, I had the feeling that everything would slip off my skin, even though the makeup on my face looks really good. When using this thick SPF cream, I definitely have to do a double cleansing at the end of the day because the cream adheres strongly to the skin and just a cleanser will not remove it from the skin.
Another note, I noticed that the cream transfers on dark clothes, which is a pretty big minus for me. Although it smoothes the skin and evens out the complexion, my pores are still visible and I would even say that it emphasizes my pores because of the shine it leaves on the skin.
---
-Yes or No?-
When all is said and done, Missha All Around Safe Block SPF50 + / PA ++++ protective cream would be most suitable for dry skin and for those who want that glass skin look. For my combination skin, though, it's too much glow at the end of the day because I have a feeling everything will melt from my face in an instant.
You can find this Missha SPF cream on these sites: Yesstyle, Jolse or on the official Missha page. Prices range from $12 to $16, and you can always catch it on a sale.
Have you tried any Missha SPF creams yet?
Ana