I ordered the žena.hr beauty box at the beginning of the month, the price of it is 75 kunas. Everyone who's keeping an eye on these type of beauty boxes (or has a friend who's mad about those :D) knows that this box is sold out as soon as it comes out. The reason behind that is the low price of 75 kunas and usually you can get a much higher value of products than you paid for. That's how most beauty boxes work and that's the point of it. Although, I read that some customers complain about not receiving a ton of high-end products in their boxes. I personally love these boxes and every time I have some spare money, I buy myself a beauty box because I like to try out new products. I much prefer when I try out some sample and then I know does the product work for me or not. I don't like when I buy a full size product and get disappointed. Enough rambling, let's get to the box and what's in there.
The box was packed into another box with protection which I really like, nothing can break in transport. I already ordered this beauty box once and the packaging was the same. This red-gold combo reminds me a lot of Christmas! When I opened the whole thing I noticed a gold rapping paper with a little chocolate inside it, I loved that! I have a sweet tooth so that chocolate didn't survive further photographing haha.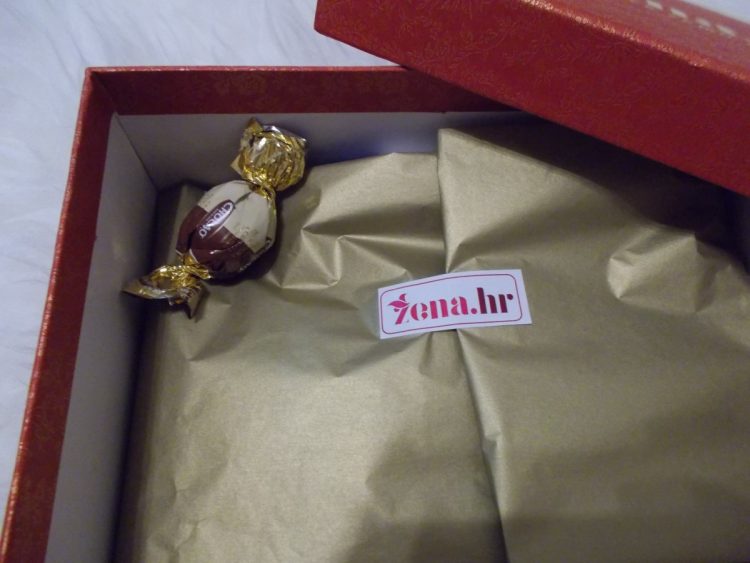 There were 7 products in the žena.hr box for December of 2016, and three of them were full sized. First I saw the Nivea Black&White Clear Deodorant, 35 ml. I used this deodorant before, as I remember, it left no traces on the clothes. That's definitely a major problem when a deodorant does that. I didn't try the 48h duration and generally I don't believe in those kind of things. The full size is 150 ml and it costs 23 kunas.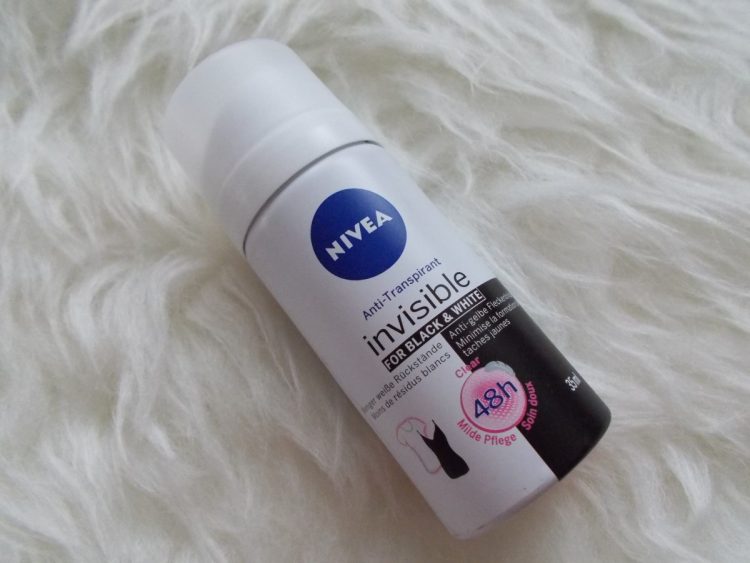 Next we have the Essence Light Up Your Face Luminizer Palette. Firstly, I really like the packaging and the look of it. Secondly, the palette seems quite firm at first sight. Only the shade in the middle suits me as a highlighter, the other two are not working as a contour and a bronzer. I don't know, I have to try this out a little more to get a clear view. The price of it is 34,90 kunas and we got a full size in the box.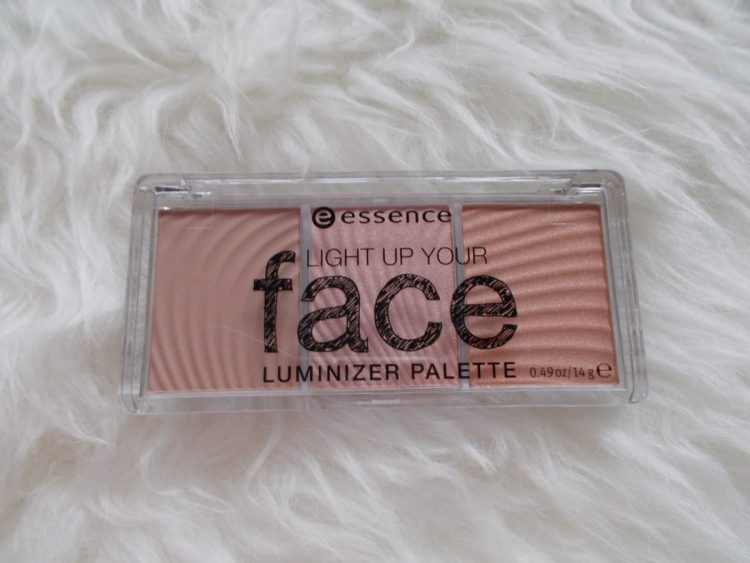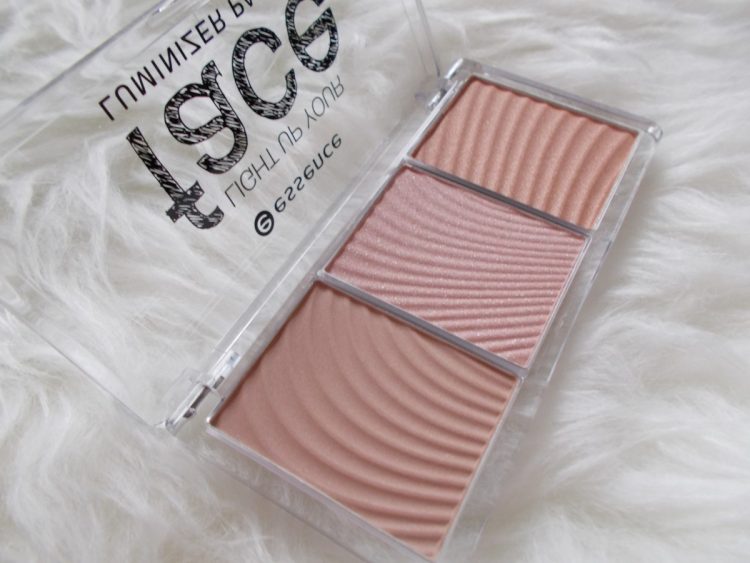 The box also contains Afrodita Delicious Pistachio Cream shower gel. I haven't used this product yet, so let have a look what Afrodita says about it: "Soft creamy texture enriched with precious oil complex nuts, intensely nourishes the skin and helps protect it from drying out. Sophisticated scent of pistachios and a very gentle cocoa particles in contact with the skin wakes up the senses and provide sweet moments of pleasure in the shower. Not for consumption." It's good that they have put out a warning that it's not for consumption because I could have easily been mistaken and replaced this for real pistachio 😀 We got a full size that costs 15,99 kunas.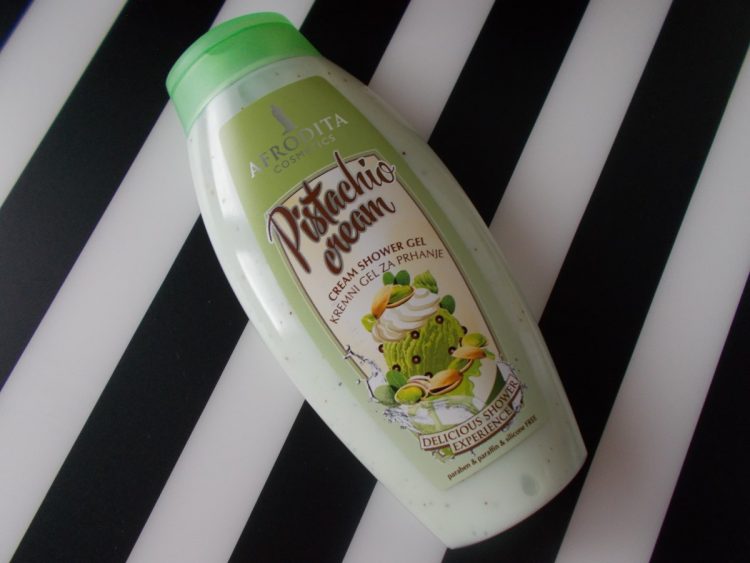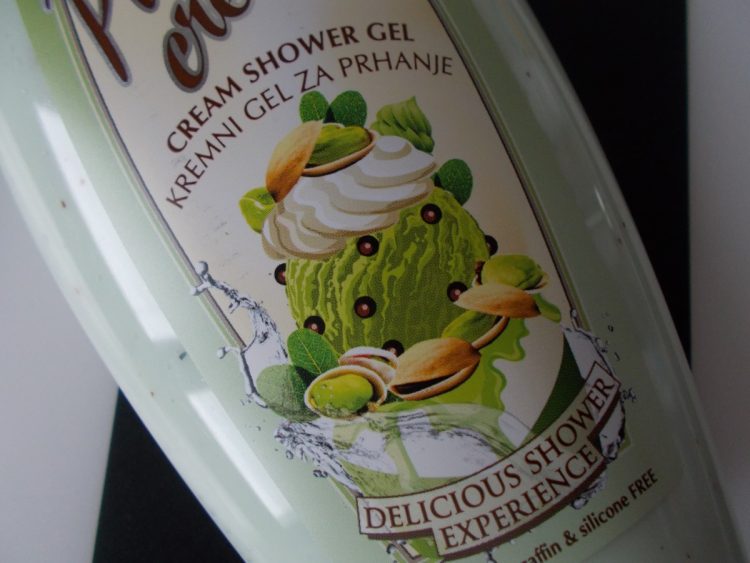 So far I used only one thermal water and recently I spent it all, so this Vichy thermal water came in handy. I used it two-three times now and I can already tell this is going to be in my favorites post. Whenever I feel my skin is tired and it wants a refreshment, I spray this on. A light mist disperses on the face and that just suits me. I have read that some bloggers were using it as a fixing makeup spray, but I haven't used it in that way. The price for 50 ml is 31 kuna. Instead of this product you could get a Vichy Slow Age day care, 10 ml.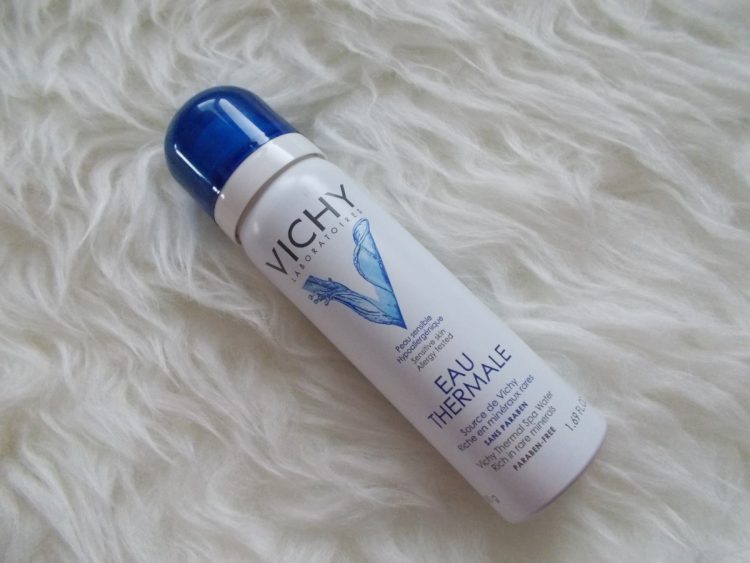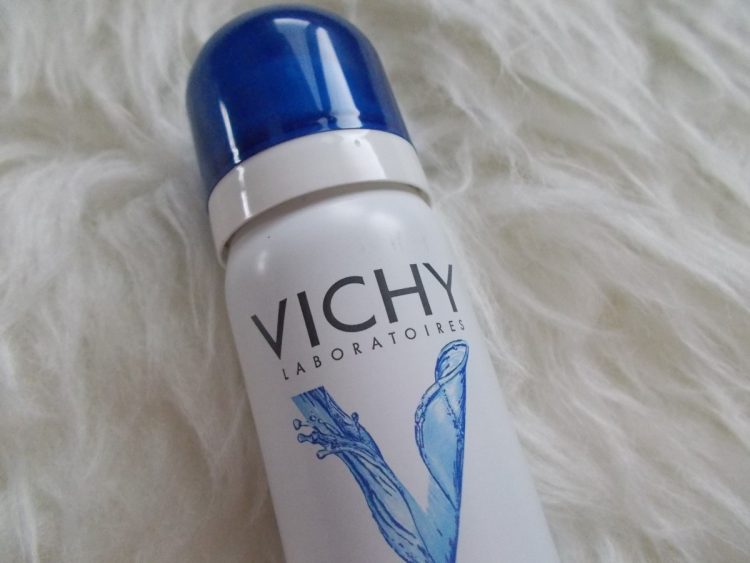 Astera Homeopatica Whitening toothpaste was also in the box, in full size. I haven't used this toothpaste yet, I find all the toothpastes generally do the same thing so I don't believe this one would be a life saver. I might get pleasantly suprised, who knows. The price for the full size of 75 ml is 22,99 kunas.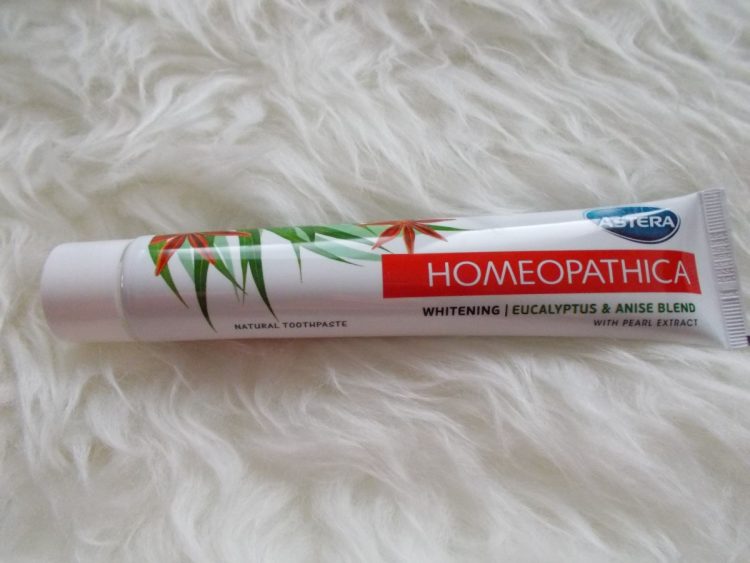 I have to admit I haven't heard of this brand so far. It is a brand called Aromara that manufactures natural cosmetics, essential oils, provide natural solutions for disease prevention and health improvement. In žena.hr box we got one of their products – Aromara Buen Camino universal pomade. This product is used for sun protection, nourishing the damaged skin, skin care with diaper rashes in babies, intensive care and protection of hands and lips, help with blisters and minor injuries on pets. I haven't used it yet, I just opened it and I have to say it has a strong scent. It's fine to me, but there are people who don't like these kind of things. The box contained a sample of 20 ml and a full size of 100 ml costs 100 kunas.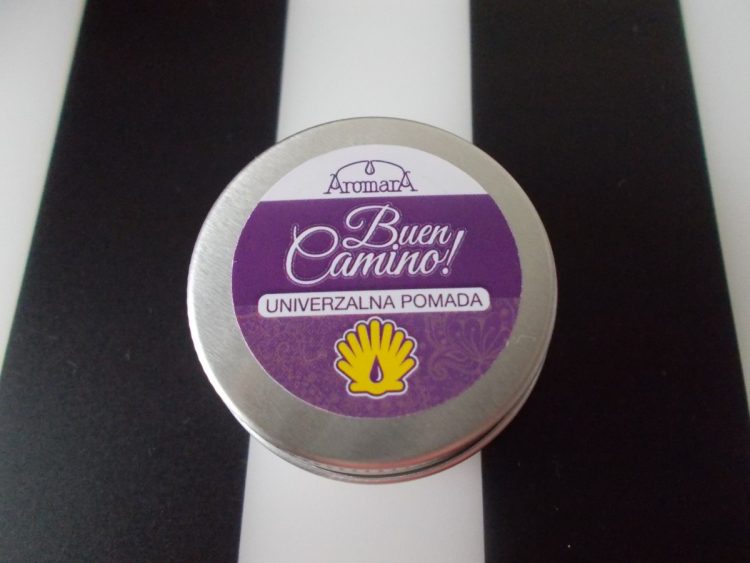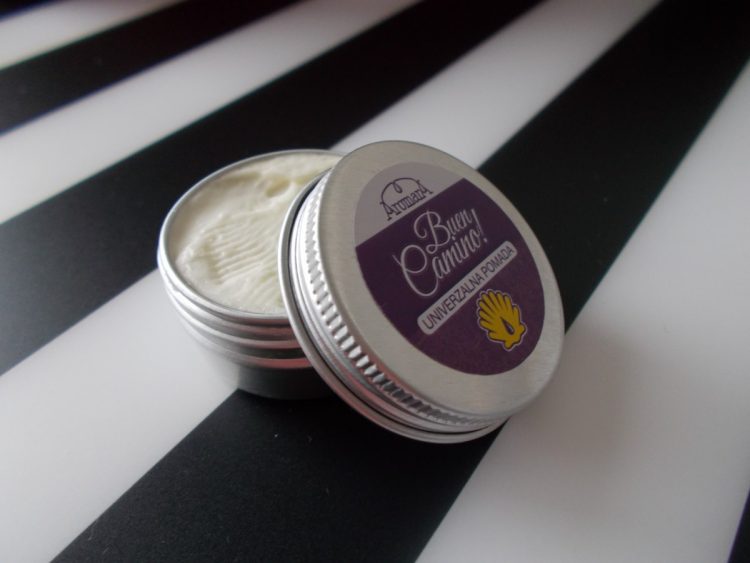 Last thing that we got were two samples of 2 ml, Kiehl's Midnight Recovery Concentrate & Daily Reviving Concentrate. What Kiehl's says about the product: "Kiehl's Daily Reviving Concentrate Midnight Recovery Concentrate  have been developed specifically to support the defense systems of the skin during the day and night cycles of renewal. Their formula together forms a comprehensive, 24-hour system that encourages a process of natural protection and restoration of the skin to be healthier, smoother and more radiant." I haven't tried their products yet so I'm really looking forward to it, I'll let you know I like it. The price of the full size of 30 ml is 300 kunas.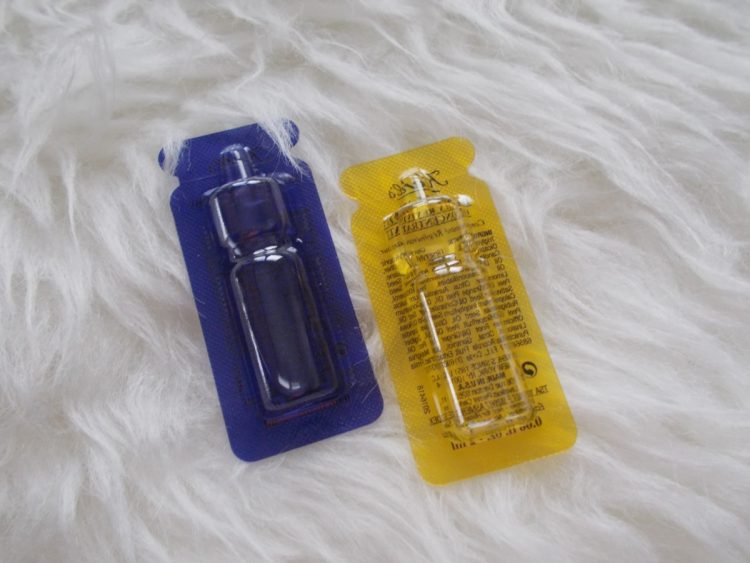 I have to say I'm really satisfied with this beauty box, the value of all the products in the box definitely exceed the box price. The box costs 75 kunas and the products from the box are worth around 170 kunas. I concidered this a great deal. Shower gel, toothpaste, deodorant – I need that always and besides that I got cool new stuff to try out. I'll definitely order this beauty box again if I get a hold of it before it's sold out.
Do you like any of the products and why? If you used any of these products, let me know your experience with them in the comments!
Bye
Ana