For the past few months, I have been using oils regularly in my skincare routine. In the summer, I only use oils in the evening when I want to deeply nourish my skin. Over the winter, I'm sure I'll mix a drop of oil with my day cream. I'm currently using Nuxe dry oil that you'll read about today.
---
Nuxe Huile Prodigieuse Multifunctional Dry Oil is designed for intense hydration and regeneration of face, body and hair. It contains a cocktail of seven botanical oils in its formula: a very nutritious Tsubaki oil with antioxidant and anti-age properties along with sweet Almond oil that softens the skin.
It also contains moisturizing Camellia oil, stretch marks and wrinkle-fighting Borage oil, smoothing Hazelnut oil, nourishing Macadamia oil and repairing Argan oil. It contains no alcohol, mineral oils or preservatives.
I have been using this product for several months now and my skin really loves it. I started using retinol and this oil comes in handy as an extra booster of hydration and care. I mostly use it in the evening after applying my face cream, I put a drop or two on my face and tap it into my skin. After application, I no longer have the feeling of tightening the skin or the feeling of dryness on my face. It softens the face nicely and nourishes the skin.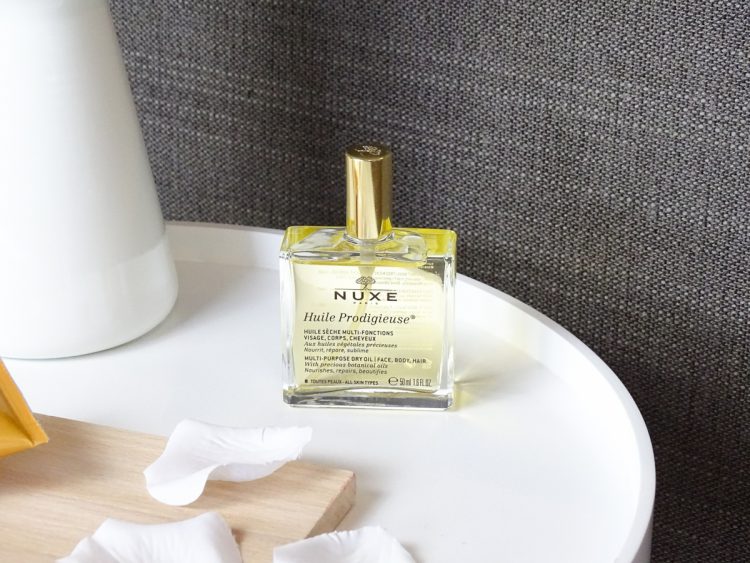 Apart from the skin, this oil can also be used on the hair. It finely smoothes the hair and it smells nice, but I still prefer to use it on my skin rather than on my hair. I often get too carried away with the amazing scent and then I put too much on my short hair. You know that short hair and a lot of oil don't go together ha-ha.
The scent of this oil is unique and long lasting on the skin. The scent is quite strong at first, but evaporates quickly from the face as it lingers on the body and hair for longer. The combination of magnolia, wild vanilla and orange blossoms gives it a touch of elegance and reminds me of a real lady's perfume.
I really like the spray pump and that the oil comes out in the form of a spray. It's very practical and not at all messy. Just one pump is enough for my whole face, and the oil absorbs into the skin very quickly and does not sit on my skin. It is dry in texture, not greasy and does not leave a greasy or sticky feeling on the face.
---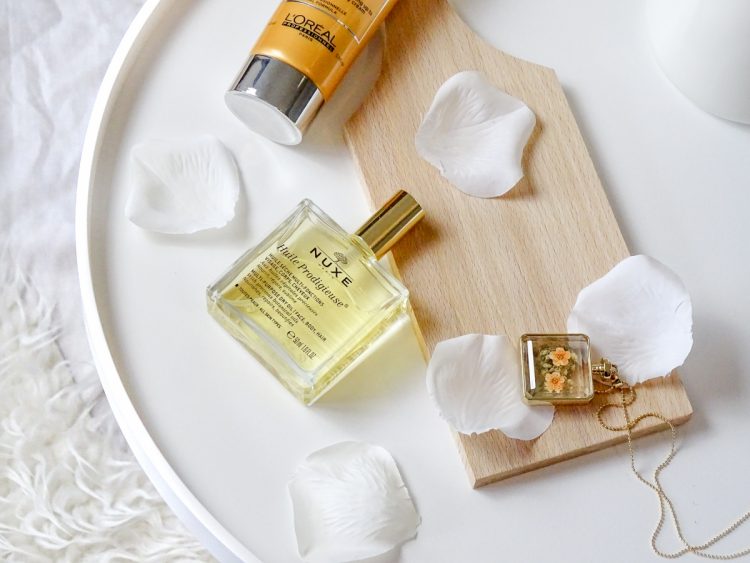 This oil contains Camellia oil and Hazelnut oil that are not suitable for combination/oily skin types as they can clog pores and thus cause irregularities. I personally have not had that experience even though I have a combination skin type. Everyone should listen to their skin and research what works best for them/does not suit them.
A little goes a long way this this product and I'm sure it will last you a long time. You have my warmest recommendations for this oil!
Nuxe Huile Prodigieuse multifunctional dry oil for face, body and hair, as well as other face care products, can be found on Notino. Price for 50 ml is 135 in.
Have you used this oil?
Ana