You must have already seen on my Instagram profile that I adore Lidl and their clothes. The prices are very affordable, and the clothes are of good quality and long lasting. The colors do not fade after a wash, and the clothes still have their original shape. As I started using their hair cosmetics, I wanted to try their makeup.
For a little less than 6 euros I got a nail polish, a blush, a compact powder, an eye shadow and a lip balm. Great deal, right? This was a sale, otherwise I would have paid for these five products somewhat less than 8 euros. This is still not bad if you consider that only one eyeshadow in a drugstore can cost 8 euros. You will be able to read a few words about each product, see photos and swatches to find out whether the products are good.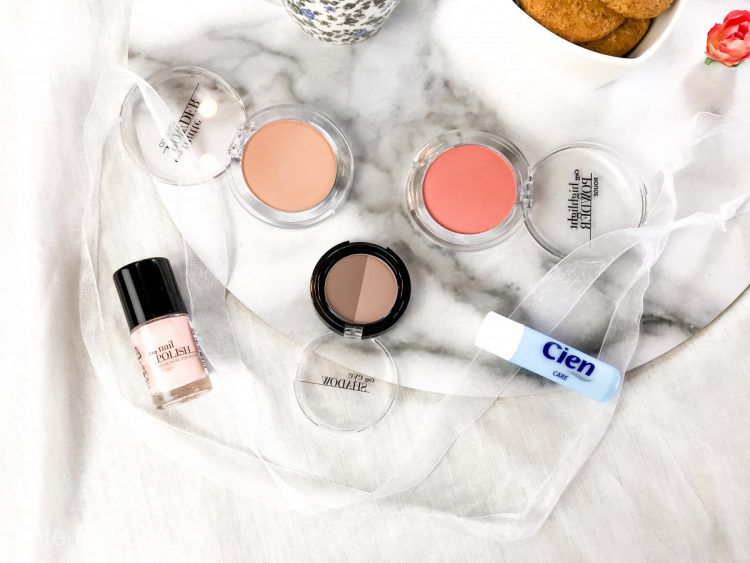 ---
-Cien Care lip balm-
This lip balm is a repeated purchase, it contains shea butter, vitamin E and babass oil. It is moisturizing enough, not greasy and leaves no greasy trace on the lips. It delicately nourishes the lips and it is the only balm that I am constantly returning to. They have another version Shiny Pearl, but the blue one is better for me. It cost me 0,61 euros at a discount, otherwise it costs a little bit more. I am a person who has to buy a new lip balm every two weeks, and I do not want to spend 10-20 euros every other week only for a lip balm.
-Cien Nail Polish, 11 Frenchlook Rose-
I've been looking for such a milky shade for so long, I've pictured it in my mind and then I find it in Lidl! 😁The brush is flat and you can apply your nail polish evenly with it. There are no visible brush strokes, since it is a very light shade, and the shade quickly dries. It lasts for 2-3 days in ideal conditions (without the use of cleaning products, laundry detergent, etc.), but what more you expect from 1 euro nail polish? I'm totally clumsy when it comes to painting my nails, but I have not had any major problems with this nail polish.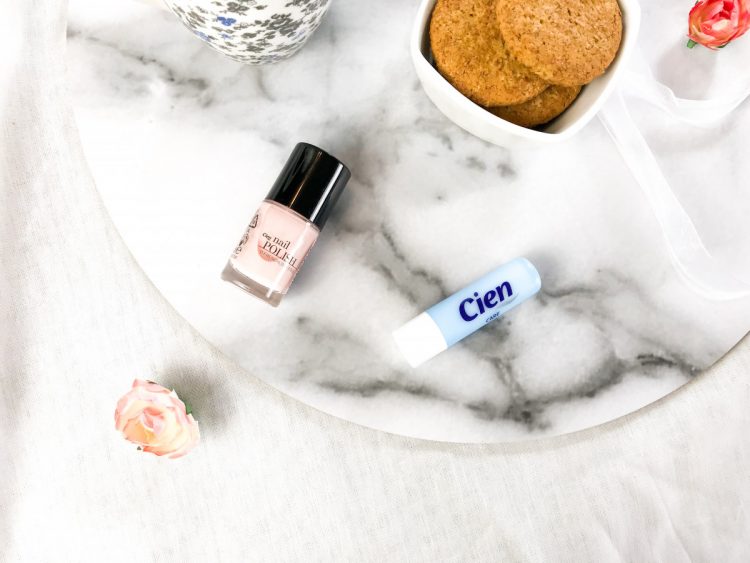 ---
-Cien Matte Powder, 11 Medium-
This powder is a total fail because all available shades are very dark. It seems to me that there were only two or three shades and this was the brightest one. I took it in the hope that the shade would suit me, but it ended up being too dark for me. I may be able to use this powder in the summer, but I'm still very pale for that now. I put it on the whole face from pure curiosity and you do not want to see how I looked haha. Later I tried to use it as a bronzer and at the crease of my eye, it did the job well. It has a passing rating for a price of 1,50 euros, though I would prefer to use it as a mattifying powder because I bought it for that purpose.
-Cien Highlight Powder Rouge, 10 Secret Lovers-
A beautiful blush with a subtle shine and a rose and peach blend, it looks incredibly good on the skin and gives a healthy glow to the skin. It has a silky texture, it's very pigmented and it can be beautifully blended. This blush is one of my favorite things I purchased lately because it justifies the theory that high prices do not mean good quality and that low price do not mean poor quality. Great blush for 1,50 euros.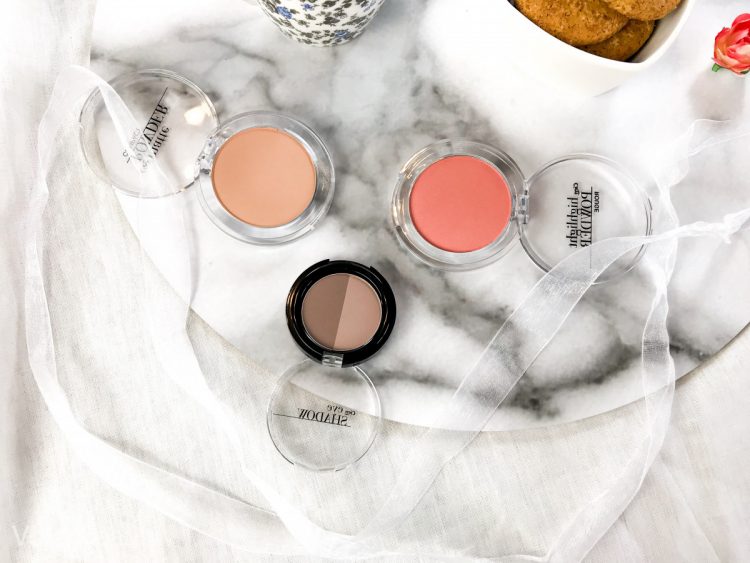 ---
-Cien Eye Shadow, 31 Natural Charme-
It is an eyeshadow that does not have the very best pigmentation, but you can work with it. We have two taupe / brown shades, a lighter one and a darker one, ideal for filling in the eyebrows. If you spray your brush with some makeup setting spray, you will get better pigmentation right away and that's how I used this eyeshadow. It's easy to blend and is not heavy on your eyes. Very solid eyeshadow for 1,20 euros and for an everyday look.
---
-To buy or not to buy?-
I definitely recommend buying three products, which are the lip balm, the blush and the nail polish. The compact powder does not have enough bright shades to choose from, and the eyeshadow is not so good that I could recommend a safe purchase. I always try to get the maximum out of each product and if it's good enough for me, it does not mean that it's good enough for someone else too. Although, here we really have to consider the favorable price of the products and I believe that no one will make a mistake if decides to try out cosmetics from Lidl.
I am interested in what your experience with Lidl Cien cosmetics is? Have you tried it already?
Ana