It's difficult to find the ideal tool for applying makeup. A brush or a sponge – a question that has come through your mind at least once. Choose a brush if you want more coverage, choose a sponge if you want more of a natural look.
---
Personally, I was a big fan of brushes until I tried the Real Techniques Miracle Complexion sponge for foundation application. The whole makeup look made with that sponge looked very natural and I loved it because of that. Of course, the sponges have to be changed every few months, so it was time for me to replace mine.
I found a decent replacement for the RT brush and it is the H&M Makeup Queen sponge. When soaked, it increases in volume and it's very soft. The sponge should be well drained before applying makeup, I usually drain it over the sink and then dry it with a towel so it's not soaking wet but damp.
It does not absorb the product and it does a very good job in blending products such as foundation, powder and concealer. In addition to the rounded side, it has a flat side which is an added plus when blending and applying the product around the nose and eyes. I like how the powder products are applied with this sponge and the skin gets that air brushed effect.
Best of all, the sponge can be easily washed and it still looks like new. To remove traces of leftover foundation and powder, I like to use Denkmit stain soap and some makeup remover or gel. This combination of soap and makeup gel has proven to be extremely effective in removing stains.
---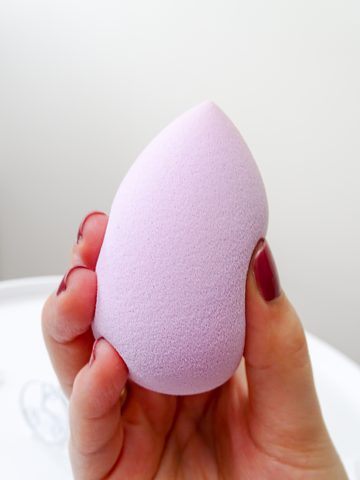 I am more than satisfied with this makeup sponge and the price of 20 kn is very reasonable. I'm always proud of myself when I catch such a good product for a low price. 😀
If you are a sponge fan, I recommend looking at the H&M sponges. In addition to these sponges, which are sold individually, I have seen that they also have sets of 2-3 sponges and small sponges for applying concealer.
Have you tried the H&M sponge? What is your favorite sponge for makeup application?
Ana