Recently, I posted a brief review of all the products I have used up in the last few months on my Insta Story. The emphasis was on preparative cosmetics, along with several pieces of decorative cosmetics. I also decided to give a brief overview of products I've finished and some of my consumer habits.
---
I gave myself the task of finishing every open product before opening a new product. Given that I often try new products for my blog, that is sometimes an impossible mission. As much as I can, I try to control the amount of products I own, whether I buy them myself or get them in the form of a collaboration.
I always make sure that I don't have a lot of open products in the same category of products. I have that in mind before opening new products and testing everything I need for reviews and for the blog. I choose products by looking at what I currently don't have in my collection or what's running out. That's how I find finding place for new products. I do not want to have four face creams open at the same time as there is very little chance that I will actually have the time to use them all.
In the past year, I have switched more to skin care products, but I still enjoy doing my makeup and playing with makeup products. I have been collecting these empty products since January, since the last empties post/video I posted on YouTube. I accidentally threw out some products, such as shower gels, but I will write about the amount of products that are still with me at this point.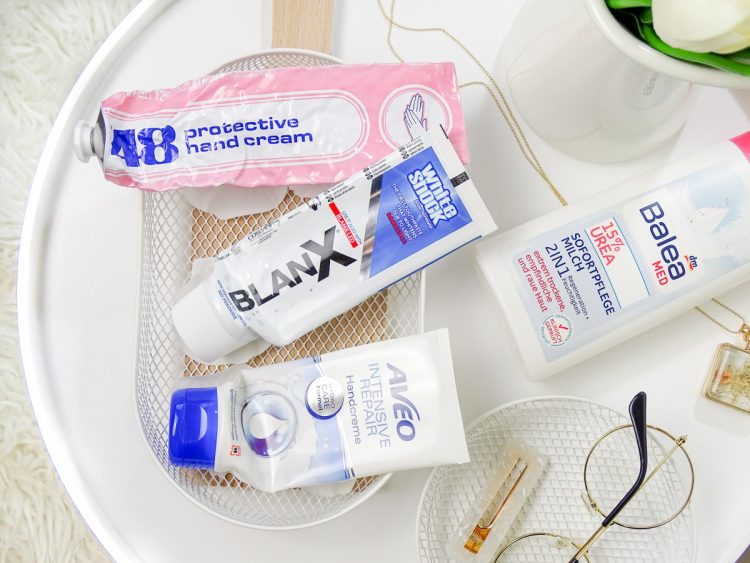 Hand Creams: 13 (Oriflame Soothing Arnica Oil Cream, Aveo Thalasso, Aveo Intensive Repair, 48, Afrodita Chamomile, Afrodita Almond, Afrodita Argan, Balea Pure & Soft, Cien Madam Glamor, Oriflame Avocado, Oriflame Love Nature Hand Cold Cream, Balea Chamomile, Balea Olive)
Lip Balm: 7 (Cien Care – the blue one, Labello Original, Labello Sun Protect, Oriflame The One BB)
Deodorant: 4 (Dove Go Fresh, Dove Invisible Dry Spray & Cream, Aveo Pure & Fresh)
Sunscreen: 2 (Cien Sun Spray Invisible, Garnier Ambre Solaire Golden Protective Oil)
Makeup: 8 (Aura Shine Killer Loose Powder, Catrice Glam & Doll Curl & Volume Mascara, Slim'matic Ultra Precize Eyebrow Pencil – Medium, Aura Correct Me Liquid Concealer, Essence Make Me Brow Eyebrow Mascara, Real Techniques Miracle Complexion Sponge , Rimmel Stay Matte compact powder, Maybelline eyebrow pencil)
Face Cream: 5 (Oriflame Love Nature Face Cold Cream, Cien Hydro Expert Aqua Gel, Dermalibour Repairing Cream sample, Bioderma Sebium sample, Laneige Water Bank Moisture Cream sample)
Toothpaste: 5 (Plidenta Bio Sensitive, Blanx White Shock, Biomed Charcoal)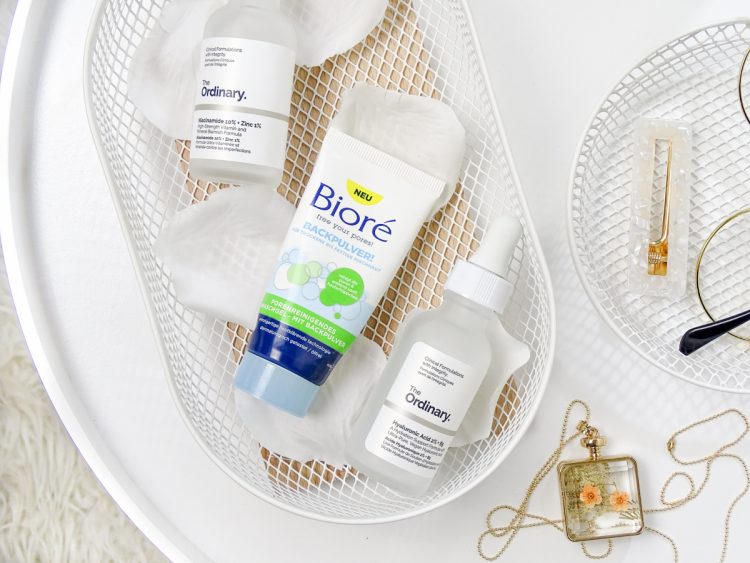 Facial Cleansing: 4 (Cien micellar water, Biore Baking Soda Gel Cleanser sample, Himalaya Neem Gel Cleanser, Uriage Hyseac Gel Cleanser sample)
Sheet Mask: 2 (Korika SciBeauty, Balea Beauty Effect)
Foot Cream: 2 (Barfuss 10% Urea, Cien Foot Balm)
Hair Products: 2 (Gliss Fiber Therapy Conditioner, Schauma Spray Conditioner)
Face Serum: 4 (Provence Beauty Hyaluronic Serum, The Ordinary Niacinamide 10% + Zinc 1%, The Ordinary Hyaluronic Acid 2% + B5, Laneige Water Bank Moisture Essence sample)
Facial Toner: 1 (Evoluderm Tonic with Green Tea Extract)
Body Care: 3 (Nivea Cherry Blossom & Jojoba Oil Lotion, Balea 15% Urea Body Milk, Afrodita Depilatory Cream for Face & Bikini)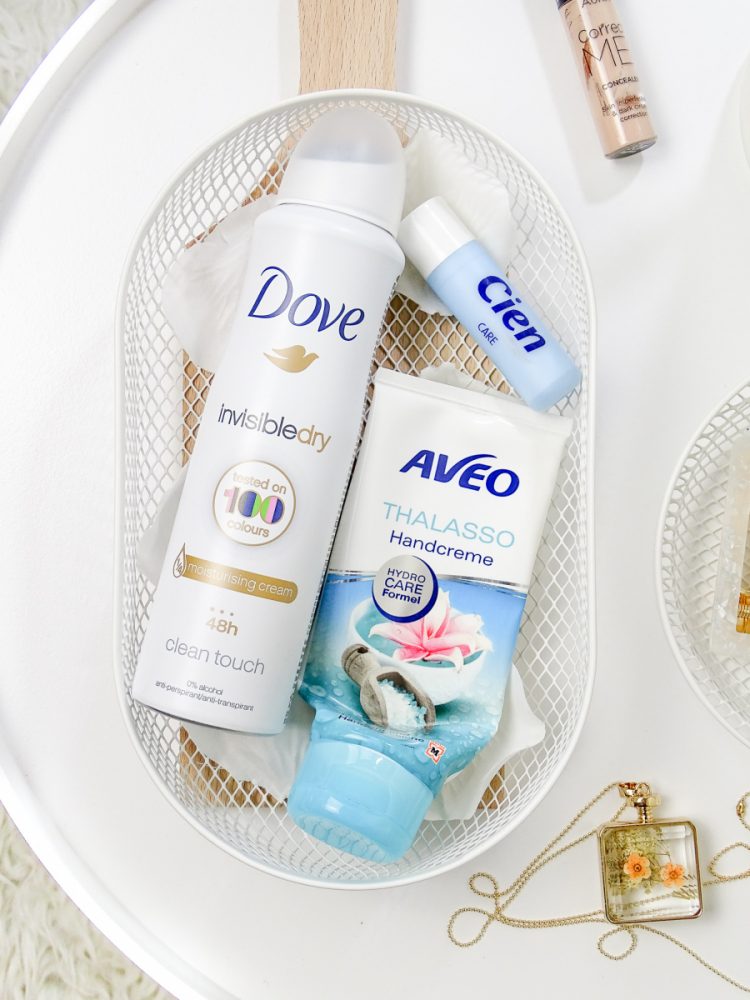 ---
Products I love:
Aveo Thalasso, Aveo Intensive Repair, 48, Afrodita Chamomile – hand creams
Cien Care blue lip balm
Dove Invisible Dry spray deodorant
Real Techniques Miracle Complexion Sponge
Oriflame Love Nature Face Cold Cream and Laneige Water Bank Moisture face creams
Blanx White Shock Toothpaste
Biore Baking Soda and Himalaya Neem Facial Cleansing Gel
Korika SciBeauty sheet mask
The Ordinary Niacinamide 10% + Zinc 1%
The Ordinary Hyaluronic Acid 2% + B5
Laneige Water Bank Moisture Essence
Nivea Cherry Blossom & Jojoba oil in lotion
Balea 15% Urea body milk
Products I don't like:
Afrodita depilatory cream for face and bikini: it irritates my skin, it's too old so it has to go into the trash
Provence Beauty 

hyaluronic

 serum: I didn't see any results and the pump didn't work after the third use
Labello Sun Protect: moisturizing lip balm and great for the beach, but it leaves white stains on the lips
Cien Sun Spray Invisible – full of alcohol, Garnier Ambre Solaire Golden Protective oil – leaves stains on clothing
Catrice Glam & Doll Curl & Volume Mascara – oversized brush for my eye
Plidenta Bio Sensitive and Biomed Charcoal Toothpaste – I didn't see any difference before and after use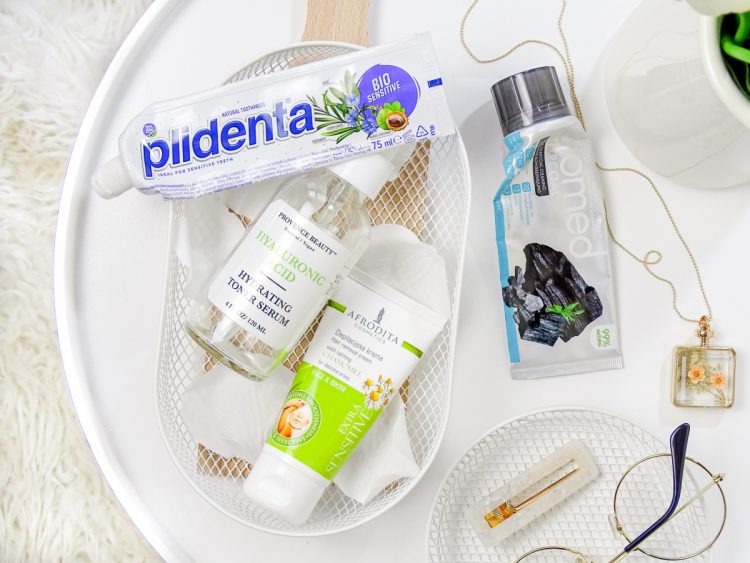 ---
I have emptied a lot of skin care products. Most of all that were hand creams and lip balms, and I emptied a few samples as well. From the serum and tonic category, I didn't empty a lot of products because these are products that can last up to several months. I only used two sheet masks because I prefer classic face masks, and I often rotate two or three classic masks, so I hope to finish a good portion of them soon.
As for the hair product, I had to say goodbye to two conditioners that had a close expiration date. Since I have short hair, my shampoo and conditioner last for months, so this time I don't have any of these products because they are still in use.
As for the makeup, I only finished – a mascara, a concealer, two powders that I hit the pan, two eyebrow pencils, eyebrow mascara, and a sponge for applying foundation. These are the things I use on a daily basis and I only wear full makeup about twice a week so I slowly use up my products. I want to clear up my makeup collection as much as possible because now I know what shades and textures are right for me.
---
You sure are wondering what about products that are not on the list of good and bad products? These products have been really good to me and you won't go wrong if you give them a chance, depending on your skin type and what your skin likes. I've already mentioned some of these products on the blog or Instagram, so feel free to look for reviews. I did not want to write separately about each product as this post would be too long.
If you have any questions regarding these empty products, I am here to answer any questions! Share your experience if you have used any of these products. 🙂
Ana