I ordered the žena.hr beauty box at the beginning of the month, the price of it is 75 kunas. Everyone who's keeping an eye on these type of beauty boxes (or has a friend who's mad about those :D) knows that this box is sold out as soon as it comes out. The reason behind that is the low price of 75 kunas and usually you can get a much higher value of products than you paid for. That's how most beauty boxes work and that's the point of it. Although, I read that some customers complain about not receiving a ton of high-end products in their boxes. I personally love these boxes and every time I have some spare money, I buy myself a beauty box because I like to try out new products. I much prefer when I try out some sample and then I know does the product work for me or not. I don't like when I buy a full size product and get disappointed. Enough rambling, let's get to the box and what's in there.
The box was packed into another box with protection which I really like, nothing can break in transport. I already ordered this beauty box once and the packaging was the same. This red-gold combo reminds me a lot of Christmas! When I opened the whole thing I noticed a gold rapping paper with a little chocolate inside it, I loved that! I have a sweet tooth so that chocolate didn't survive further photographing haha.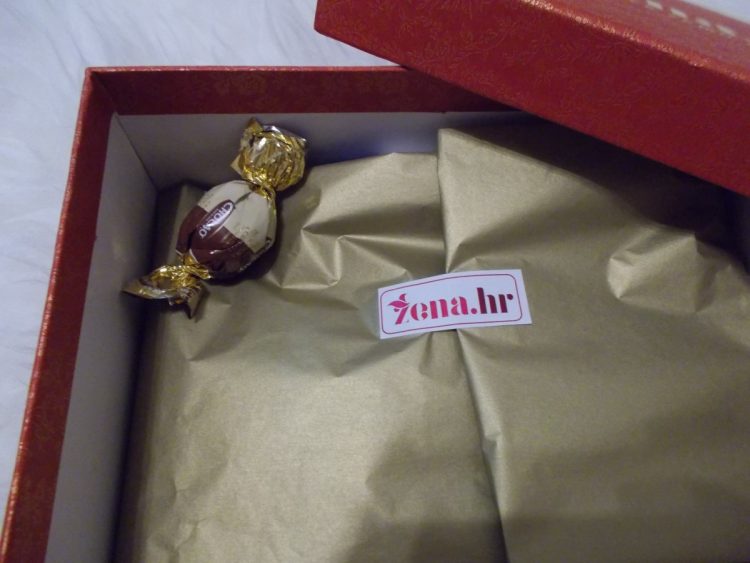 There were 7 products in the žena.hr box for December of 2016, and three of them were full sized. First I saw the Nivea Black&White Clear Deodorant, 35 ml. I used this deodorant before, as I remember, it left no traces on the clothes. That's definitely a major problem when a deodorant does that. I didn't try the 48h duration and generally I don't believe in those kind of things. The full size is 150 ml and it costs 23 kunas.