JORD is a family-owned company headquartered in St. Louis, Missouri, USA. Besides their world famous wood watches, they also offer accessories like sunglasses, Apple bands and soon to be released handbags. JORD is known for using creative materials to make interesting designs.
---
Suberhide™ vegan handbags made by JORD will be released during the holidays and offered in many vibrant colors & fashionable styles. These stylish bags are JORD's very own creation made in a very sustainable way, they're a blend of Portuguese cork & vegan leather. That makes them very enduring and resistant to tears or scratches.
Did you know the cork oak tree is 1 of 3 trees in the world that can be stripped of its bark without dying? Bark of a single cork oak can be harvested every 9 years. As the bark regrows, it pulls tremendous amounts of carbon dioxide from the air. Harvesting cork also reduces greenhouse gases.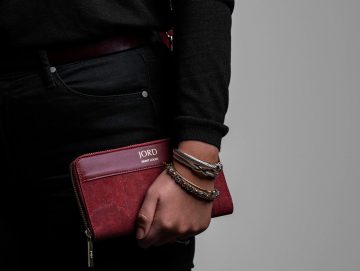 The Suberhide material is also hypoallergenic, anti-static, waterproof and flame resistant. It's a stain-free material and it maintains its shape after folding because it's highly-elastic. It can be easily cleaned with some mild soap and warm water.